Posts for tag: teething
By Ann Arbor Dental Specialists, PC
March 27, 2019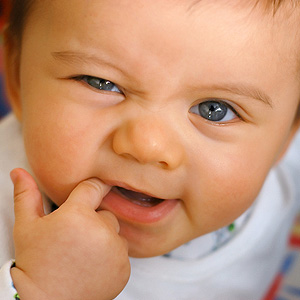 Your sweet, happy baby has suddenly become a gnawing, drooling bundle of irritation. Don't worry, though, no one has switched babies on you. Your child is teething.
For most children, their first teeth begin breaking through the gums around six to nine months. Usually by age three all twenty primary ("baby") teeth have erupted. While the duration and intensity of teething differs among children, there are some common symptoms to expect.
Top of the list, of course, is irritability from pain, discomfort and disrupted sleep. You'll also notice increased gnawing, ear rubbing, decreased appetite, gum swelling or facial rash brought on by increased saliva (drooling). Teething symptoms seem to increase about four days before a tooth begins to break through the gums and taper off about three days after.
You may occasionally see bluish swellings along the gums known as eruption cysts. These typically aren't cause for concern: Â the cyst usually "pops" and disappears as the tooth breaks through it. On the other hand, diarrhea, body rashes or fever are causes for concern — if these occur you should call us or your pediatrician for an examination.
While teething must run its course, there are some things you can do to minimize your child's discomfort:
Provide them a clean, soft teething ring or pacifier to gnaw or chew — a wet washcloth (or a cold treat for older children) may also work. Chill it first to provide a pain-reducing effect, but don't freeze it — that could burn the gums.
Use a clean finger to massage swollen gums — gently rubbing the gums helps counteract the pressure caused by an erupting tooth.
Alleviate persistent pain with medication — With your doctor's recommendation, you can give them a child's dosage of acetaminophen or ibuprofen (not aspirin), to take the edge off teething pain.
There are also things you should not do, like applying rubbing alcohol to the gums or using products with Benzocaine®, a numbing agent, with children younger than two years of age. Be sure you consult us or a physician before administering any drugs.
While it isn't pleasant at the time, teething is part of your child's dental development. With your help, you can ease their discomfort for the relatively short time it lasts.
If you would like more information on relieving discomfort during teething, please contact us or schedule an appointment for a consultation. You can also learn more about this topic by reading the Dear Doctor magazine article "Teething Troubles."
By Ann Arbor Dental Specialists, PC
September 08, 2018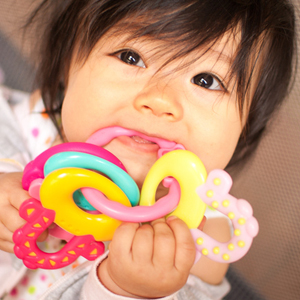 Although it's a natural part of dental development, teething is no picnic for your baby. This process in which each of their twenty primary teeth gradually erupt through the gums usually begins around their sixth to ninth month and may not end until around age three.
These periodic tooth eruptions can cause your baby to bite, gnaw, drool or rub their ears. Teething can also disrupt sleeping patterns, decrease appetite and cause gum swelling and pain that can turn your otherwise happy baby into an unhappy one.
Managing these teething episodes is one of the most common topics parents bring up with their dentists. Since teething is supposed to happen, there's no need for medical intervention unless the child is also experiencing diarrhea, rashes, fever or prolonged irritability associated with teething episodes. In most cases, the best you can do is to make your child more comfortable. Here are a few things to help you do just that.
Provide cold items for gnawing. Rubber teething rings, wet wash cloths or pacifiers that have been chilled can give your child something to gnaw on and ease the pressure of sore gums while the chilled temperatures help numb pain. Be sure, though, that the items aren't frozen because extremely cold temperatures can burn the skin.
Gum massage. You can massage your child's gums with one of your fingers during a teething episode to counteract the throbbing pressure coming from the erupting tooth. Just be sure your finger is clean and don't use any numbing agents unless advised by your dentist or pediatrician.
OTC medication. You can ease mild to moderate teething pain with over-the-counter pain relievers like acetaminophen or ibuprofen in dosages appropriate for your child's age. But don't apply rubbing alcohol to the gums or massage in any pain reliever—both practices can burn the skin. And, as mentioned before, only apply numbing agents like Benzocaine with the advice and supervision of a healthcare professional.
Besides these practices, be sure to keep up regular dental checkups to monitor the teething process and ensure all is going normally. And remember: though it may seem harrowing at times, the teething process won't last forever.
If you would like more information on easing the effects of teething, please contact us or schedule an appointment for a consultation. You can also learn more about this topic by reading the Dear Doctor magazine article "Teething Troubles: How to Help Keep Your Baby Comfortable."
By Ann Arbor Dental Specialists, PC
December 22, 2016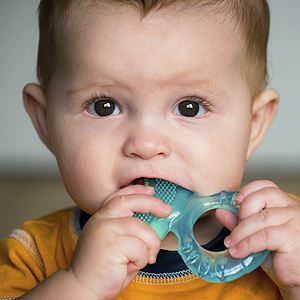 The arrival of your child's first set of teeth is a natural and expected process. But that doesn't mean this period of development, commonly known as teething, is an easy time: your baby will endure a fair amount of discomfort, and you, perhaps, a bit of anxiety.
Knowing the facts about teething can help you reduce your child's discomfort — as well as your own concern — to a minimum. Here are a few things you need to know.
Teething duration varies from child to child. Most children's teeth begin to erupt (appear in the mouth) between six and nine months of age — however, some children may begin at three months and some as late as a year. The full eruption sequence is usually complete by age 3.
Symptoms and their intensity may also vary. As teeth gradually break through the gum line, your baby will exhibit some or all normal teething symptoms like gum swelling, drooling and chin rash (from increased saliva flow), biting or gnawing, ear rubbing, or irritability. You may also notice behavior changes like decreased appetite or disrupted sleep. These symptoms may be a minimal bother during some teething episodes, while at other times the pain and discomfort may seem intense. Symptoms tend to increase about four days before a tooth emerges through the gums and about three days afterward.
Diarrhea, rashes or fever aren't normal. These symptoms indicate some other sickness or condition, which can easily be masked during a teething episode. If your child exhibits any of these symptoms you should call us for an exam to rule out a more serious issue.
Keep things cool to reduce discomfort. There are a few things you can do to reduce your child's discomfort during a teething episode. Let your child chew on chilled (but not frozen) soft items like teething rings, wet washcloths or pacifiers to reduce swelling and pain. Gum massage with your clean finger may help counteract the pressure from the erupting tooth. And, if your doctor advises it, pain relievers in the proper dosage may also help alleviate discomfort. On the other hand, don't use rubbing alcohol to soothe painful gums, or products with the numbing agent Benzocaine in children younger than two unless advised by a healthcare professional.
If you would like more information on dealing with teething issues, please contact us or schedule an appointment for a consultation. You can also learn more about this topic by reading the Dear Doctor magazine article "Teething Troubles."